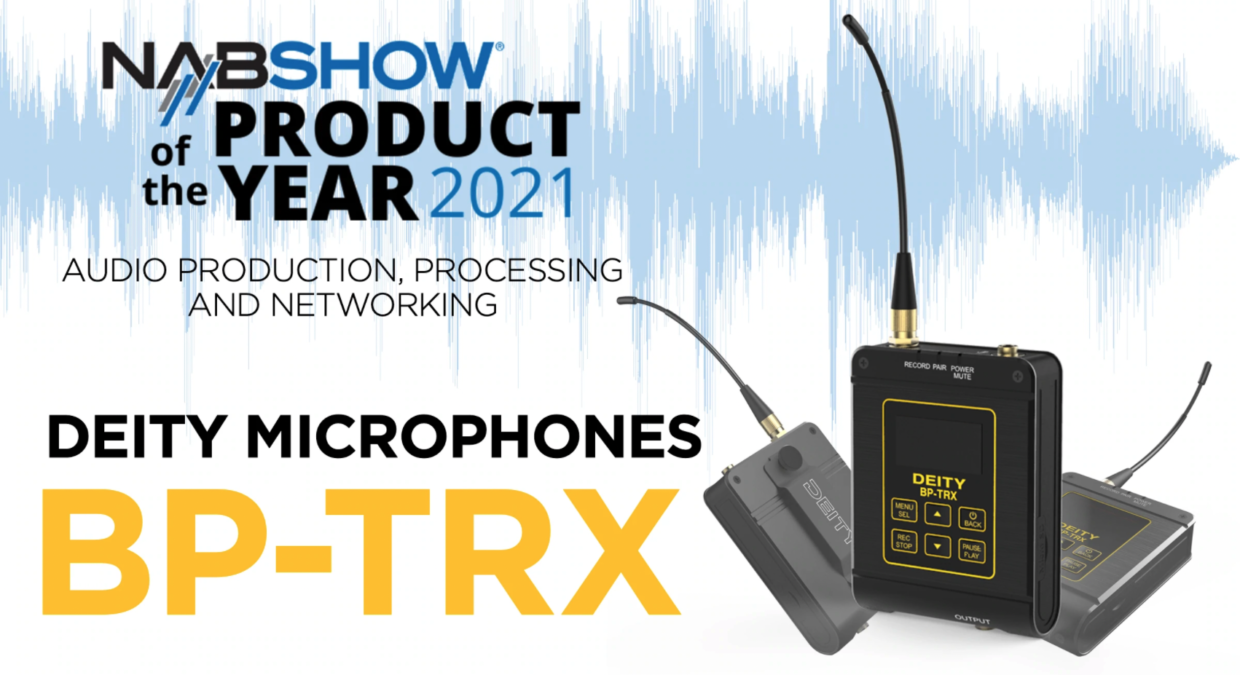 Los Angeles, CA— Jan 10th, 2022 Deity Microphones is excited to announce that its BP-TRX is a Best New Audio Production Technology winner at the 2021 NAB Show Product of the Year Awards. This official awards program recognizes the most significant and promising new products and technologies showcased by corporate partners of NAB Show.
The BP-TRX is an audio multi-tool that often gets used as a wireless microphone transmitter that allows for the simultaneous internal recording of audio in sync with timecode. It can also be used as a standalone audio recorder with timecode, a receiver for other transmitters, an audio interface for PC, or as a camera hop that can feed both audio and timecode to a production camera. All of this is achieved by using an ARM based SoC that runs the computing power inside the BP-TRX.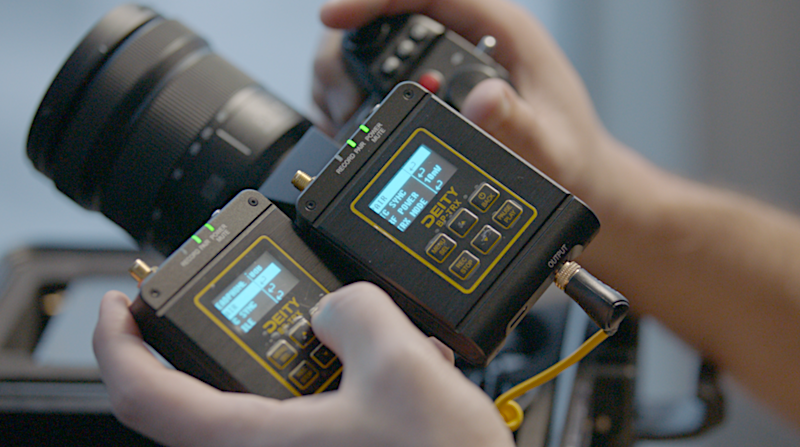 NAB Show Product of the Year Award Winners were selected by a panel of industry experts in 16 categories and announced in a live awards ceremony on NAB Amplify on November 3. To be eligible for an award, nominated products had to come from companies scheduled to exhibit in either the 2020 or 2021 NAB Show and be delivered within the 2021 calendar year.
"Nominees like Deity Microphones are revolutionizing the way people experience media and entertainment," said NAB Executive Vice President of Conventions and Business Operations Chris Brown. "The 2021 NAB Show Product of the Year Awards highlight the best of what's new and celebrate the breakthroughs and advancements within the content industry."
"Two years ago, we set out to design an audio device that would be flexible. Something that would fill a particular void on set one day and could do something completely different the next. We know production needs can change rapidly and the tools of our industry need to do more," said Andrew Jones, Product Developer for Deity Microphones. "The BP-TRX project for us is just the beginning. So far, we've already released 3 firmware updates that add new features to the unit, and we think there is still more functionality we can give it in years to come. We know the future for us is in wireless microphones and we are ready to deliver unique wireless microphone systems that elevate the user's experience."
About Deity Microphones:

Deity Microphones launched in Hollywood CA in 2018 with a single microphone and a straight-forward mission: bringing professional gear to filmmakers, content creators, and videographers of all levels. They have offices in the US, Europe and Asia with a growing amount of corresponding global dealers. Fostering a creative community has been imperative to ensuring that they are designing the exact products that their customers want to see. www.DeityMic.com
The 2021 NAB Show Awards Online:

https://nabshow.com/2022/news-releases/nab-announces-winners-of-annual-product-of-the-year-awards/
About NAB Show
NAB Show, held April 23–27, 2022, in Las Vegas, encompasses media, entertainment and technology and is the ultimate marketplace for those seeking to create superior audio and video experiences. From creation to consumption, across multiple platforms, NAB Show is where global visionaries convene to bring content to life in new and exciting ways. For complete details, visit www.nabshow.com.
About NAB
The National Association of Broadcasters is the premier advocacy association for America's broadcasters. NAB advances radio and television interests in legislative, regulatory and public affairs. Through advocacy, education and innovation, NAB enables broadcasters to best serve their communities, strengthen their businesses and seize new opportunities in the digital age. Learn more at www.nab.org.