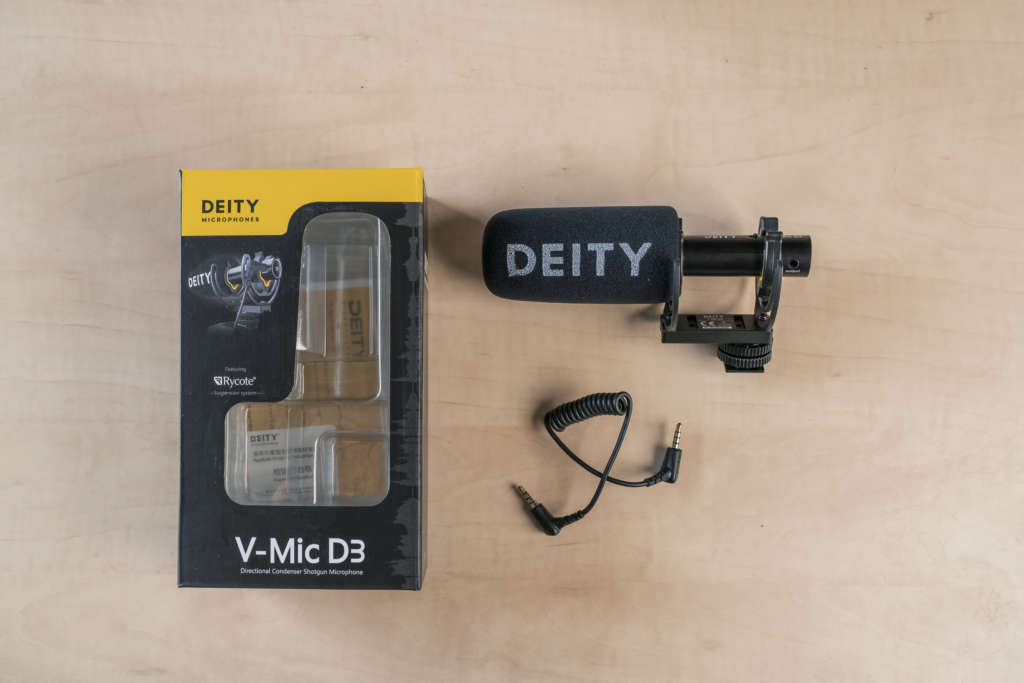 Broadcast Quality Sound
The V-Mic D3 has a superior off-axis sound performance compared to some of the other on-camera microphones on the market at this price range. Combine that with its low self-noise, low distortion, and this microphone will make you want to use your camera's audio in the final mix of your video.

Low noise circuitry
Extremely Low Distortion THD (<0.1%)
High-grade SNR (max. 78dB @-32dB sensitivity)
Same 14mm Prepolarized Condenser Capsule as the V-Mic D3 Pro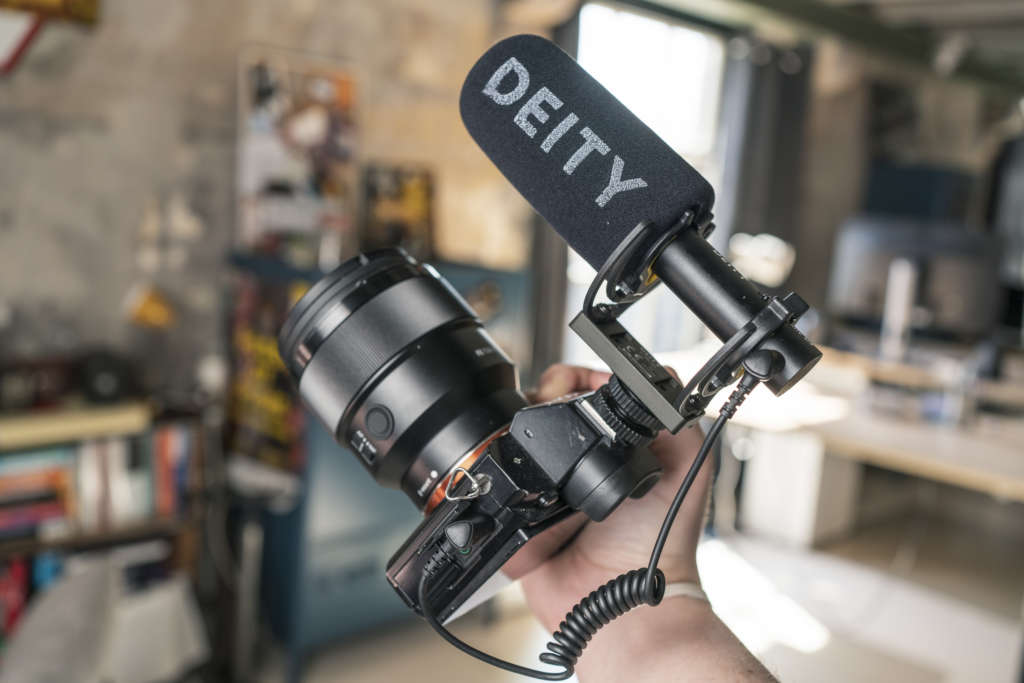 Featuring Our Smart 3.5mm Microphone Output
As soon as you plug the V-Mic D3 into a 3.5mm microphone jack of a device, its microprocessor shakes hands with the device. This means carrying much fewer adapter cables*.
*Check our microphone's compatibility chart at the bottom of this website to see if your device is supported.
Out-of-the-box the V-Mic D3 is compatible with:
DSLRs
Camcorders
Smartphones*
Handy Recorders
Laptop*
Bodypack Transmitters
Tablets*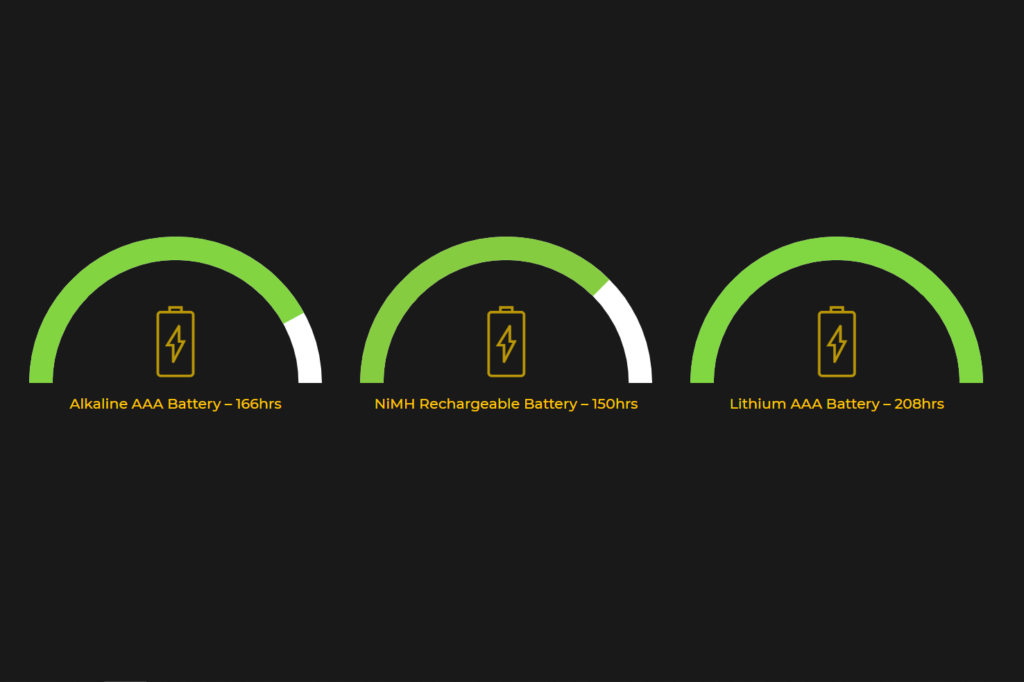 Swappable AAA Battery
The V-Mic D3 uses a single AAA for power. It also features a one button on/off switch. When turned on the microphone is ready in Stand-By-Mode and automatically goes into Run-Mode when the camera or device turns on. This also allows you to save battery on your microphone when you turn your camera off.
| | | | |
| --- | --- | --- | --- |
| Transducer Principles | Prepolarized Condenser | Dynamic Range | 114dB (per IEC651) |
| Pick Up Pattern | Super Cardioid | SPL | 130dB SPL (@1KHZ, 1%THD into 1kΩ) |
| Frequency Range | 50HZ ~ 20KHZ | THD | ≤0.1% |
| Output Impedance | 200Ω | Battery Type | Single AAA Battery |
| Sensitivity | -35±2dB re 1V/Pa @1KHZ | Output Port | Smart 3.5mm TRRS |
| Signal to Noise Ratio | 78dB SPL (@1KHZ,rel 1Pa per IEC651) | Housing Material | Aluminum Metal |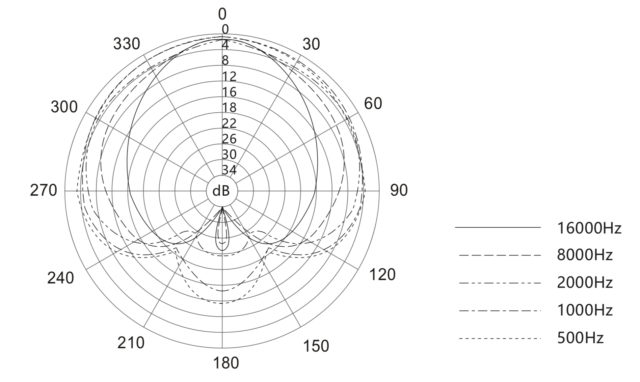 Deity V-Mic D3 Microphone
Rycote Adjustable Cold-Shoe Shock Mount
Smart TRRS to TRRS Coiled Cable
Foam Windscreen
Wind Protection:
Rycote 7cm Classic-Softie (19/22)
Reinhardt Whisper W100
Reinhardt Windsock 50-100
BOYA BY-P80
BOYA BY-T80
Bumblebee WindKiller Small
Movo WST100
Movo WS-G80
DEVICE
D3 / D3 Pro
V.Lav
Azden Pro-XD
Azden Pro-XR
Azden WM88 Pro
Yes
Yes
Blackmagic BMPCC
Blackmagic BMPCC4k
Blackmagic BMPCC6k
Blackmagic Micro Studio Camera 4
Blackmagic Micro Cinema Camera
Requires 3rd Party TRS Cable
Requires a TRRS to TRS adapter
Canon EOS 550D/Rebel T2i
Canon EOS 600D/Rebel T3i
Canon EOS 650D/Rebel T4i
Canon EOS 700D/Rebel T5i
Canon EOS 750D/Rebel T6i
Canon EOS 800D/Rebel T7i
Canon EOS 100D/Rebel SL1
Canon EOS 200D/Rebel SL2
Canon EOS 250D/Rebel SL2
Canon EOS 1000D/Rebel XS
Canon EOS 60D
Canon EOS 60Da
Canon EOS 70D
Canon EOS 77D
Canon EOS 80D
"Canon EOS 7D
Canon EOS 7D Mark II
Canon EOS 5D Mark II
Canon EOS 5D Mark III
Canon EOS 5D Mark IV
Canon EOS 5Ds
Canon EOS 5Ds R
Canon EOS 6D
Canon EOS 6D Mark II
Canon EOS-1D X
Canon EOS-1D X Mark II
Canon EOS-1D C
Canon EOS R
Canon EOS R5
Canon EOS R6
Canon EOS RP
Canon EOS M50
Yes
Yes
Canon XA-10, XA-11, XA-15, XA-20, XA-25, XA-30, XA-35
Canon C100
Canon C300
Canon C500
Requires D-XLR adapter
Requires D-XLR adapter
Deity Connect BP-TX
Deity Connect HD-TX
Yes

No

Fuji X-Pro 2
2.5mm male to 3.5mm female adapter
No
Fuji X-T2
Fuji X-T3
Fuji X-T4
Requires 3rd Party TRS Cable
Requires a TRRS to TRS adapter
Google Pixel
Google Pixel XL
Yes
Yes
Google Pixel 2
Google Pixel 2 XL
Google Pixel 3
Google Pixel 3 XL
Google Pixel 4a
USB-C Headphone Adapter
USB-C Headphone Adapter
GoPro Hero 1
GoPro Hero 2
GoPro Hero 3
GoPro Hero 3+
GoPro Hero 4, 4+Black
GoPro Hero 5 Black
GoPro Hero 6
GoPro Hero 7
GoPro Hero 8
With USB to microphone adapter
With USB to microphone adapter
iPhone 7
iPhone 6S
iPhone 6S PLUS
iPhone 6 PLUS
iPhone 6
Yes
Yes
iPhone X
iPhone Xs
iPhone Xs MAX
iPhone 8
Requires Headphone adapter
Requires Headphone adapter
Kinefinity MAVO
Kinefinity MAVO LF
Kinefinity TERRA
Yes
Yes
Lumia 950
Nexus 6
ViVo X20
VIVO X6
OPPO
Huawei Mate 10
Huawei Mate 10 pro
Huawei Mate 8
Huawei honor V9
Huawei honor V8
Huawei honor 8
Huawei nova 1
Huawei honor play
XIAO MI 5
XIAO MI Red Mi 5plus
XIAO MI Red Mi 3
XIAO MI Red Mi NOTE3
XIAO MI 6
ZTX nubia Z17
MEIZU PRO 7
Coolpad CO9
360 vizza
MEIZU PRO 6
Not with default Video App;
Works with Filmic Pro app;
Not with default Video App;
Works with Filmic Pro app;
Lumix S1
Lumix S1R
Lumix HC-V800
Lumix DMC-FZ2500
Lumix DMC-FZ1000
Lumix G85
Lumix G9
Lumix GH3
Lumix GH4
Lumix GH5, GH5s
Yes
Yes
Nikon D750
Nikon D850
Nikon D610
Nikon D5600
Nikon D500
Nikon Z6
Nikon Z7
Yes
Olympus E-M1X
Olympus E-M1ii
Olympus E-M1
Olympus E-M5ii
Olympus E-M5iii
Olympus E-M10ii
Requires 3rd Party TRS Cable
Yes but green light won't turn on
RED Komodo
Yes
Yes
RODE Wireless Go
Yes, +13cm separation

No

RODELink TX-Belt
RODELink TX-XLR
Yes, +13cm separation
Yes
Samsung Tab Series
Samsung Galaxy Series
Samsung Note 4, 5, 7, 8, 9
Yes
Yes
Sigma FP
Requires 3rd Party TRS Cable
Requires 3rd Party TRS Cable
Sony AX700
Sony NX80
Sony PXW Z90V
Requires D-XLR adapter
Requires D-XLR adapter
Sony FS5 / FS5 ii
Sony FS7
Sony Z90
Requires D-XLR adapter

Requires D-XLR adapter

Sony α6300
Sony α6500
Sony α77 II
Sony α7
Sony α7R
Sony α7S
Sony α7 II
Sony α7 III
Sony α7R II
Sony α7S II
Sony α7R III
Sony α7 III
Sony RX10 M4
Sony α9
Sony α99
Yes
Yes
Sony ZV-1
Yes
Yes
Tascam DR-10 series
Tascam DR-40
Tascam DR-22WL
Tascam DR-60
Tascam DR-70
Requires 3rd Party TRS Cable
Requires 3rd Party TRS Cable
Z-Cam E2 series
Yes
Yes
Zoom H1
Zoom H1n
Zoom H2
Zoom H4n (3.5mm Jack)
Zoom Q2n
Zoom Q4n
Zoom F1
Zoom EXH6
Yes, Turn on Plug-In Power
Yes, Turn on Plug-In Power
Huawei Honor 5x
MEIZU Blue NOTE 6
Nikon D7000
Canon T3/1100D
Canon VIXIA Series
Canon VIXIA HFG20, HFG30, G10
ARRI MINI
Canon Legria HF G25

No

No
If you look on your shockmount you will see a sticker that features your microphone's serial number. To register your microphone go to our warranty form.
It's possible the device you're trying to use either does not supply 3v bias voltage or the ground pin of the 3.5mm jack is out of spec and does not align with the ground pin on a TRRS plug. Make sure your device supplies bias voltage and try to use a TRS to TRS cable.
It means that your device requires a legacy 3.5mm TRS to TRS cable, much like the "AUX" cable you might use to plug your iPod into your car radio.
DEVICE
D3 / D3 Pro
V.Lav
Azden Pro-XD
Azden Pro-XR
Azden WM88 Pro
Yes
Yes
Blackmagic BMPCC
Blackmagic BMPCC4k
Blackmagic BMPCC6k
Blackmagic Micro Studio Camera 4
Blackmagic Micro Cinema Camera
Requires 3rd Party TRS Cable
Requires a TRRS to TRS adapter
Canon EOS 550D/Rebel T2i
Canon EOS 600D/Rebel T3i
Canon EOS 650D/Rebel T4i
Canon EOS 700D/Rebel T5i
Canon EOS 750D/Rebel T6i
Canon EOS 800D/Rebel T7i
Canon EOS 100D/Rebel SL1
Canon EOS 200D/Rebel SL2
Canon EOS 250D/Rebel SL2
Canon EOS 1000D/Rebel XS
Canon EOS 60D
Canon EOS 60Da
Canon EOS 70D
Canon EOS 77D
Canon EOS 80D
"Canon EOS 7D
Canon EOS 7D Mark II
Canon EOS 5D Mark II
Canon EOS 5D Mark III
Canon EOS 5D Mark IV
Canon EOS 5Ds
Canon EOS 5Ds R
Canon EOS 6D
Canon EOS 6D Mark II
Canon EOS-1D X
Canon EOS-1D X Mark II
Canon EOS-1D C
Canon EOS R
Canon EOS R5
Canon EOS R6
Canon EOS RP
Canon EOS M50
Yes
Yes
Canon XA-10, XA-11, XA-15, XA-20, XA-25, XA-30, XA-35
Canon C100
Canon C300
Canon C500
Requires D-XLR adapter
Requires D-XLR adapter
Deity Connect BP-TX
Deity Connect HD-TX
Yes

No

Fuji X-Pro 2
2.5mm male to 3.5mm female adapter
No
Fuji X-T2
Fuji X-T3
Fuji X-T4
Requires 3rd Party TRS Cable
Requires a TRRS to TRS adapter
Google Pixel
Google Pixel XL
Yes
Yes
Google Pixel 2
Google Pixel 2 XL
Google Pixel 3
Google Pixel 3 XL
Google Pixel 4a
USB-C Headphone Adapter
USB-C Headphone Adapter
GoPro Hero 1
GoPro Hero 2
GoPro Hero 3
GoPro Hero 3+
GoPro Hero 4, 4+Black
GoPro Hero 5 Black
GoPro Hero 6
GoPro Hero 7
GoPro Hero 8
With USB to microphone adapter
With USB to microphone adapter
iPhone 7
iPhone 6S
iPhone 6S PLUS
iPhone 6 PLUS
iPhone 6
Yes
Yes
iPhone X
iPhone Xs
iPhone Xs MAX
iPhone 8
Requires Headphone adapter
Requires Headphone adapter
Kinefinity MAVO
Kinefinity MAVO LF
Kinefinity TERRA
Yes
Yes
Lumia 950
Nexus 6
ViVo X20
VIVO X6
OPPO
Huawei Mate 10
Huawei Mate 10 pro
Huawei Mate 8
Huawei honor V9
Huawei honor V8
Huawei honor 8
Huawei nova 1
Huawei honor play
XIAO MI 5
XIAO MI Red Mi 5plus
XIAO MI Red Mi 3
XIAO MI Red Mi NOTE3
XIAO MI 6
ZTX nubia Z17
MEIZU PRO 7
Coolpad CO9
360 vizza
MEIZU PRO 6
Not with default Video App;
Works with Filmic Pro app;
Not with default Video App;
Works with Filmic Pro app;
Lumix S1
Lumix S1R
Lumix HC-V800
Lumix DMC-FZ2500
Lumix DMC-FZ1000
Lumix G85
Lumix G9
Lumix GH3
Lumix GH4
Lumix GH5, GH5s
Yes
Yes
Nikon D750
Nikon D850
Nikon D610
Nikon D5600
Nikon D500
Nikon Z6
Nikon Z7
Yes
Olympus E-M1X
Olympus E-M1ii
Olympus E-M1
Olympus E-M5ii
Olympus E-M5iii
Olympus E-M10ii
Requires 3rd Party TRS Cable
Yes but green light won't turn on
RED Komodo
Yes
Yes
RODE Wireless Go
Yes, +13cm separation

No

RODELink TX-Belt
RODELink TX-XLR
Yes, +13cm separation
Yes
Samsung Tab Series
Samsung Galaxy Series
Samsung Note 4, 5, 7, 8, 9
Yes
Yes
Sigma FP
Requires 3rd Party TRS Cable
Requires 3rd Party TRS Cable
Sony AX700
Sony NX80
Sony PXW Z90V
Requires D-XLR adapter
Requires D-XLR adapter
Sony FS5 / FS5 ii
Sony FS7
Sony Z90
Requires D-XLR adapter

Requires D-XLR adapter

Sony α6300
Sony α6500
Sony α77 II
Sony α7
Sony α7R
Sony α7S
Sony α7 II
Sony α7 III
Sony α7R II
Sony α7S II
Sony α7R III
Sony α7 III
Sony RX10 M4
Sony α9
Sony α99
Yes
Yes
Sony ZV-1
Yes
Yes
Tascam DR-10 series
Tascam DR-40
Tascam DR-22WL
Tascam DR-60
Tascam DR-70
Requires 3rd Party TRS Cable
Requires 3rd Party TRS Cable
Z-Cam E2 series
Yes
Yes
Zoom H1
Zoom H1n
Zoom H2
Zoom H4n (3.5mm Jack)
Zoom Q2n
Zoom Q4n
Zoom F1
Zoom EXH6
Yes, Turn on Plug-In Power
Yes, Turn on Plug-In Power
Huawei Honor 5x
MEIZU Blue NOTE 6
Nikon D7000
Canon T3/1100D
Canon VIXIA Series
Canon VIXIA HFG20, HFG30, G10
ARRI MINI
Canon Legria HF G25

No

No